Corporate Catering London
Are you bored with the standard and corporate catering options London? You are not alone. London is full of unimaginative chains which makes Spagbowl an oasis of freshly made original tasty corporate catering options. No more stale curling sandwiches and substandard coffee for your next corporate meeting!
Spagbowl can provide catering for any type of London corporate function or event and offer an exciting variety of catering menu options for corporate events and meetings. Spagbowl use the finest Italian ingredients to make mouth-watering fresh food and of course a superb coffee.
Spagbowl focus on providing London corporate catering services with the highest levels of customer service and satisfaction.  We will do everything we can to meet your expectations with a variety of corporate buffets which can include a variety of hot and cold options. We also cater for food allergies just let us know at the time of ordering.
Spagbowl, based in Central London, use the finest Italian ingredients to make mouth-watering fresh food and of course a superb pasta salad. We have recently updated our pasta menu and added some new pasta salad options as well as hot pasta and pizza offers for you to try. We pride ourselves on the quality and freshness of all our pasta salad dishes and prepare our food with only the finest ingredients to give you an eating experience to remember!
Italian cuisine relies on fresh, seasonal produce designed to be enjoyed so Spagbowl have created authentic Italian pasta salad dishes which can be ordered for London corporate catering. Our chefs have designed some wonderful freshly prepared pizza and pasta menu options. When it comes to lunch our customers are truly spoiled with a choice of authentic Italian hot and cold pasta dishes and salads as well as snacks and refreshments. Gluten-free options available. If you prefer a different pasta type with your meal let us know and we'll change it for you!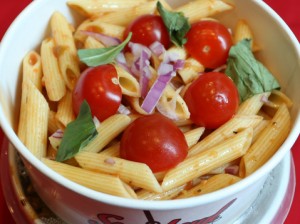 You can place your corporate catering order at Spagbowl takeaway and delivery service based in Moorgate, London over the phone. Phone your corporate catering order through on 07955590542. We can arrange delivery to London EC1, EC2, EC3 or EC4.