Lunch Menu Moorgate
Are you looking for an exciting and healthy lunch menu in the Moorgate area? Well you have come to the right place. Spagbowl based in Ropemaker Street, Moorgate, use the finest Italian ingredients to make mouth-watering fresh food and of course a superb cup of coffee. We have just updated our lunch menu and added some new options for you to try.
Italian cuisine relies on fresh, seasonal produce designed to be enjoyed at a leisurely pace. Spagbowl have created authentic Italian lunch menu which can be eaten on the go. We understand that on weekdays when you're at work there's not often time to sit down and have lunch before returning to the office. Our chefs have designed some wonderful lunch menu options in individual portions which can be enjoyed at your desk or nearest park or garden.
When it comes to our lunch menu our customers are truly spoiled with a choice of authentic Italian hot and cold pasta dishes and salads as well as pizzas, baguettes, sandwiches, snacks and refreshments. If you require gluten free pasta or a different pasta type for lunch let us know and we'll change it for you!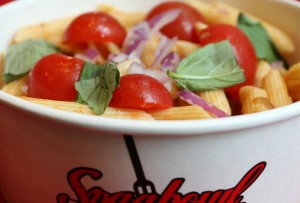 Need your lunch in a hurry? Phone through on 07943 660924 and we will have your order waiting to collect or we can arrange delivery if you are in EC1, EC2, EC3 or EC4.